LiBro® Pre-cooling Technology
The LiBro® unit, Lithium Bromide based Absorption Refrigeration unit, is integrated with Air Products® AP-N LNG Process and the chilled water produced in the LiBro® unit is used for precooling of the natural gas and cooling of N2 refrigerant for improved LNG train efficiency. Produced chilled water is also used for cooling of the gas turbine combustion air for maximizing output of gas turbine driver.
With the LiBro® unit integration, the overall efficiency of LNG train is improved, greater gas turbine power is made available, and increased LNG production capacity with the gas turbines selected is achieved.
Pre-cooling technology for liquefaction system
Capability to combine with N2 expander, SMR and others.
Proven technology widely used for centralized air conditioning application onshore
Stable performance under sea motion conditions with proprietary technology of MODEC
Usage of waste heat from gas turbine exhaust as motive power
Verified effectiveness and performance by full scale dynamic motions tests
More efficient production with Cooled GT intake air
Whole system is designed as absolute no liquid-leak of Lithium Bromide and no refill operation is required.
Flow schematic of the LiBro® FLNG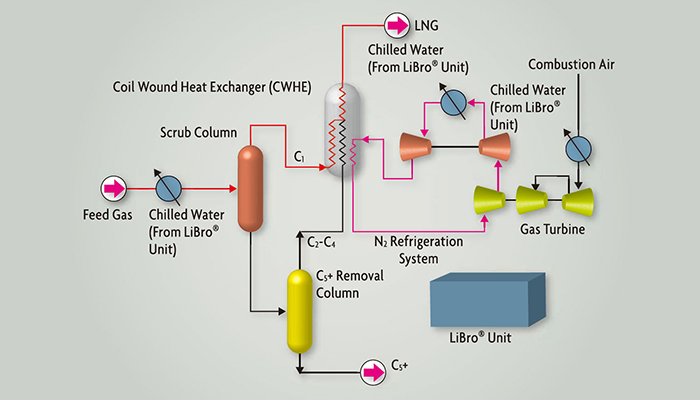 Comparison of Liquefaction Efficiency
*

LiBro is a trademark of MODEC, Inc.