Based on our market-research, we concluded a need for three generic sizes of solutions and, being engineers, we developed "fancy" marketing names: Small, Medium and Large.
As part of this effort, we realized that we were effectively developing a modified FSRU that could accommodate a CCGT power plant on its deck. We also concluded that starting with a conventional FSRU hull form may not be a cost-effective solution; thus, by leveraging our last eight years of work in the FLNG space, we developed three uniquely different hull forms using different new build and existing LNG barge/vessel solutions with integrated LNG containment systems.
The "Small" solution utilizes a purpose-built barge from our sister company TGE Marine with 25,000 m3 "Type C" LNG storage tanks. This solution is ideal for shallow-water environments such as marshes, harbors, rivers and lakes. The LNG tanks are located inside the barge with the power generation facilities on deck.
The "Medium" solution utilizes a MOSS Tanker Conversion with up to 125,000 m3 of LNG storage. This solution is ideal for small island nations, industrial complexes, coastal cities and emergency response.
In addition the Medium solution is ideal in combination with intermittent renewable power (wind, solar, hydro) and dispatches supplemental power as/when required. The onboard power management system controls the entire process.
In this solution, we remove 2 to 3 of the forward tanks and locate the gas-turbine power generation on deck with steam generation either on deck as well or in the space vacated by the MOSS Tanks in the hull.
The "Large" solution utilizes a Suezmax or VLCC conversion with "Type B" or "Type C" LNG storage tanks. This solution is ideal for countries seeking either large (400 to 1,000 MW) power-generation plants or combination of Power and Water production.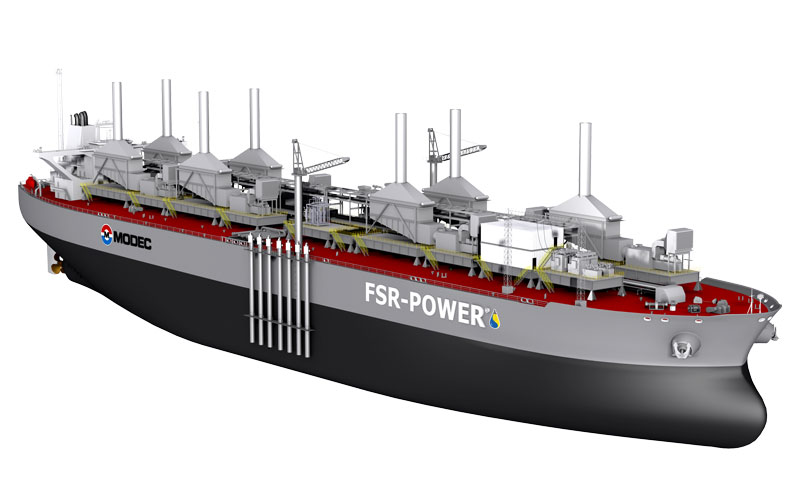 *

FSRWP, FSR-Power and FSR-Water are registered trademarks of MODEC, Inc.