MODEC is committed to providing the best services as a leading company in the offshore oil & gas industry, while also engaging in the development of new offshore energy-related businesses.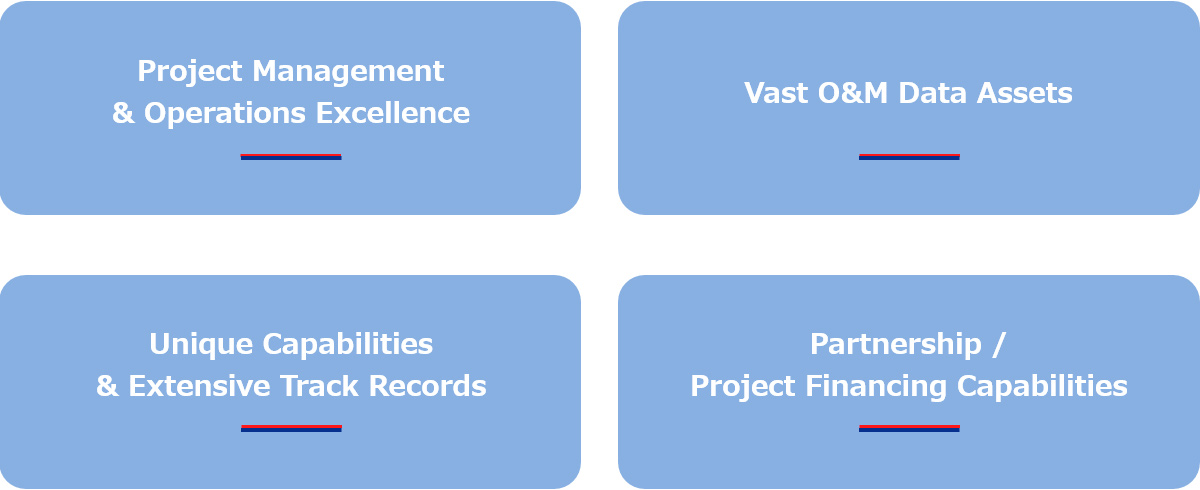 Project management ability that encompasses engineering, construction and also operation & maintenance (O&M) capabilities in an integrated manner
In offshore oil & gas development projects, MODEC provides turnkey solutions for floating production systems to be used for offshore oil & gas production, from the construction of the systems through to production after the offshore installation of the systems and O&M services.
Our ability to select suitable outsourcing companies and shipyards from across the world helps us maintain both price competitiveness and flexibility of operations. We cooperate with companies from multiple countries to provide systems built exactly as designed, and our construction management ability is based on our experience, including experience with operation that has been ongoing for more than half a century.
Information assets gained from offshore oil & gas development based on abundant experience in providing O&M services
In order to ensure safe and stable offshore production on a long-term basis, optimal selections need to be made promptly in various aspects. MODEC provides a wide range of FPSO/FSO-related O&M services and has internally accumulated and shares the know-how and feedback gained in relation to these services. This leads to even better engineering and construction and helps us continue to provide O&M services with even higher customer satisfaction.
Moreover, we are pressing forward with digitalization as one of our important strategies, with a view to enhancing the quality and efficiency of engineering and O&M services for our floating production systems. By AI-based data analysis and use of IoT, we are integrating information about our FPSO/FSO design and O&M services with an eye to improving our services for even safer and more efficient operation of the systems.
Ability to deal with ultra deep-water projects and track record for ultra deep-water projects
The sea areas in which offshore oil & gas fields are developed are being expanded to include deep-water and ultra deep-water areas, and floating production systems, such as FPSO systems which are also increasing in size and complexity. In line with this progress, MODEC is designing, constructing and operating systems that meet a variety of specifications.
Off the coast of Brazil, abundant oil reserves have been recently found in the pre-salt layer, which is located beneath the salt layer and about 5,000 meters deep under the seabed. In ultra deep-water projects, such as that for the Brazilian oil reserves, it is necessary to meet the exacting requirements for EPCI and O&M services to ensure the long-term operation of systems, and there are only a few companies that can meet these requirements. MODEC is one of such companies and has won EPCI and O&M service contracts for a total of eight projects (as of May 2020) concerning FPSO systems used for production in the pre-salt layer, and in the Brazilian pre-salt oil region, our output accounts for about 30% of the crude oil produced there.
Partnership with blue chip companies and high project finance ability
MODEC is engaged in offshore oil & gas development projects, which require large financial investments. We implement charter projects jointly with blue chip companies based on long-term partnerships and have the ability to raise project finance to make use of financial institutions in Japan and abroad, including public ones. These partnerships and ability provide both a driving force and a competitive advantage for the company to implement the projects.
The high project finance ability is a great factor that has supported our past achievements and ability to implement projects, and it could be said that these collectively serve as proof of the trust that we have earned from customers.
Moreover, in view of the changes made to the business environment, such as an increase in the number of charter projects that we are concurrently implementing and the expansion of the amount of funds raised per project, we are diversifying our fundraising infrastructure, including fundraising from capital markets as well as from financial institutions, thereby building a system to procure the funds necessary for our future growth in a flexible manner.