Mooring systems are the equipment that hold FPSOs in place against the forces of waves, wind and currents. The systems hold FPSOs in place even during storms as severe as the so-called "100-year storm" that may occur once or less in 100 years and play the role of supporting the safe operation of FPSOs that produce oil and gas offshore. FPSOs are moored by the mooring systems in a wide range of water depths, from as shallow as 20 meters to as deep as 2,000 meters.
FPSOs are anchored to the seabed with mooring lines, usually consisting of 6 to 10 chains or wires.
Typically, the mooring lines and the hull of FPSOs are connected by the Turret system, which is connected to the hull via giant rotating bearings. Thanks to these bearings, FPSOs can rotate freely around the Turret like a weathercock to minimize external forces from waves, wind, and currents, and can perform stable oil and gas production activities even in adverse weather conditions.
There are many different types of mooring systems, of which the most appropriate system is selected to match the environmental conditions. An internal turret, which is located inside the hull, is often used in waters where cyclones are frequent and marine conditions are very severe such as the waters to the northwest of Australia and off Hong Kong. Disconnectable turrets are sometimes used so that FPSOs can be detached from their mooring systems and evacuated to a safe location in the event of an approaching cyclone or hurricane.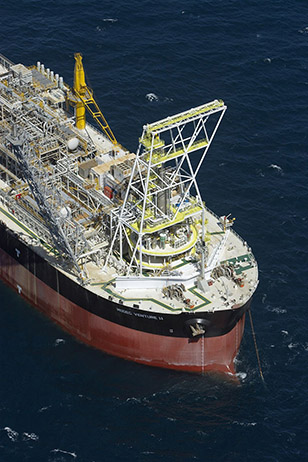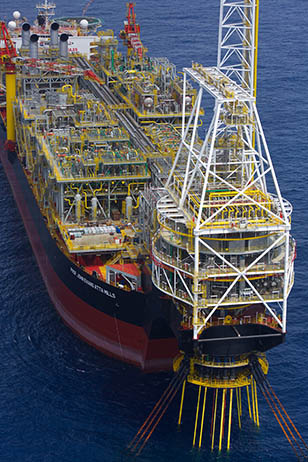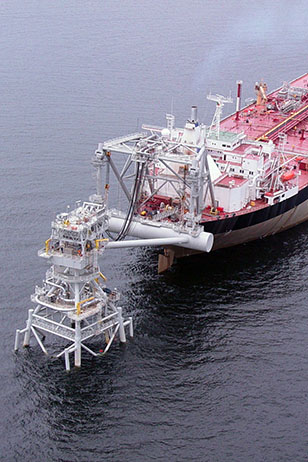 In monsoon regions such as Southeast Asia, etc., an external-bow mounted turret is often used. In shallow waters, a mooring system called a Tower Yoke may be used.
In areas where sea conditions are moderate, a catenary anchor leg mooring (CALM) buoy system, which is used for tanker loading and unloading in the gulf, is used, or a multi-point mooring system called Spread Mooring in which multiple mooring cables are used to directly secure the ship without a turret, is used.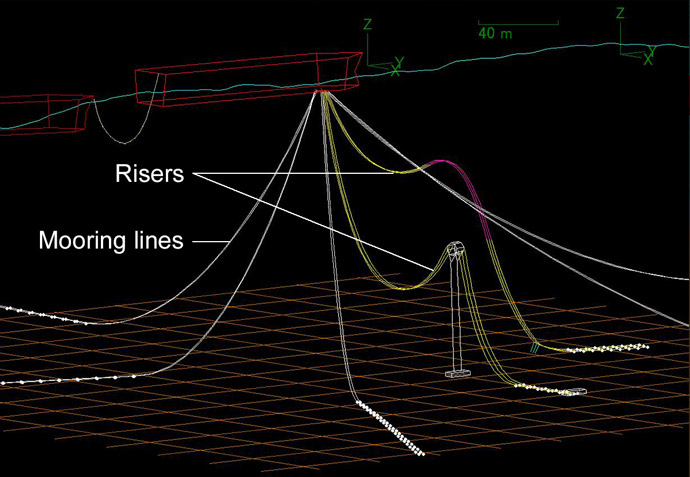 Simulation to analyze the shape and disposition of mooring lines and risers
In 2006, MODEC acquired SOFEC, Inc., a mooring specialist in the United States.
SOFEC, founded in Houston in 1972, is a leader in the engineering and construction of Single Point Mooring (SPM) and Spread Mooring solutions, and has delivered more than 100 mooring systems around the world. Respected for its excellent track record, SOFEC provides mooring systems and related service for other contractors' projects as well as for MODEC's.
As a mooring system is an essential part of a floating production system such as an FPSO/FSO, this acquisition allowed us to strengthen our competitiveness in the FPSO industry by fully incorporating SOFEC's patented turret and mooring technologies into MODEC's FPSO and FSO construction business and to better serve our clients' needs in the FPSO market on a worldwide basis.
For more information about the mooring systems and SOFEC, please visit SOFEC's website.