Corporate
First Gulf of Mexico FSO Exports 500 Millionth Barrel of Oil
The MODEC owned and operated FSO Ta'Kuntah offloaded its 500 millionth barrel of oil on January 1st, 2005. The FSO Ta'Kuntah was the first FSO installed in the Gulf of Mexico and continues to be one of the largest FSO's operating worldwide. Strategically located on the PEMEX Cantarell field, the FSO Ta'Kuntah achieved the 500 millionth barrel by offloading to 887 tankers in 6 years and 4 months. These operations have been carried out with no downtime and no incident of pollution. The following statistics highlight the significant increase in daily throughput since operations began.
Date
Barrels
Offloaded
Days to
Achieve
No. of Tankers
Offloaded
Average
BOPD
Nov. 16, 2000
1st 100 million
825
172
121,000
Apr. 25, 2002
2nd 100 million
525
189
190,000
Apr. 15, 2003
3rd 100 million
358
178
282,486
Apr. 3, 2004
4th 100 million
352
178
284,100
Jan. 1, 2005
5th 100 million
273
170
366,300
Total
500 million
2,333
887
-
The FSO Ta'Kuntah is designed to receive a throughput of 800,000 bopd and to perform both tandem and side-by-side offloadings, the only facility in the world designed to conduct this operation simultaneously.
The SOFEC® mooring system has also proven to be an impressive component of this facility. The fluid swivel has remained tight with no leakage and no maintenance required to date.
During this period, FSO Ta'Kuntah offloaded 25% of the ships exporting oil in the marine northeastern region and exported the same percentage of oil which emphasizes the strategic importance of the facility for this region.
"The high commercial demands naturally result in higher workload for maintenance and upkeep. Our offshore crew, with effective support from the site office in Ciudad del Carmen and the Houston Corporate office, has overcome this challenge while maintaining a most satisfactory HSE record," commented Shashank Karve, President and CEO, MODEC International, LLC.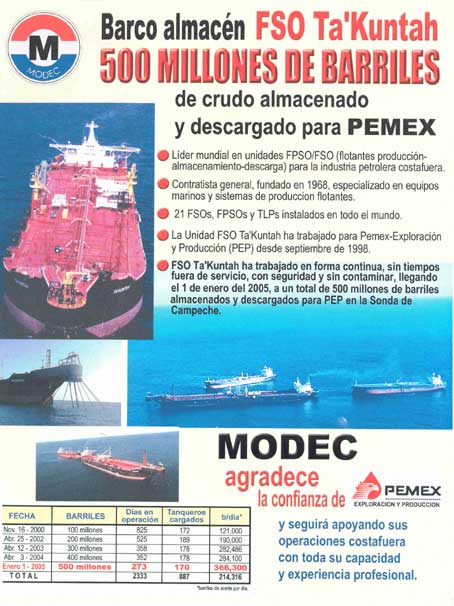 FSO Ta'Kuntah Tanker 500 MILLION BARRELS of crude stored and off-loaded for PEMEX
World leader in FPSO/FSO (floating production-storage-off-loading) units for the off-shore oil industry.
General contractor founded in 1968, specializing in sea equipment and floating production systems.
21 FSOs, FPSOs and TLPs installed around the world.
The Ta'Kuntah FSO Unit has worked for Pemex Exploracion y Produccion (PEP) since September of 1998.
FSO Ta'Kuntah has worked non-stop without downtime, safely and without polluting, arriving at a total of 500 million barrels as of January 1, 2005, stored and off-loaded for PEP in the Sonda de Campeche.
MODEC thanks PEMEX EXPLORACION Y PRODUCCION for its trust and will continue to support its off-shore operations with all of its professional capability and experience.