FPSO
Conversion
50 m
External Turret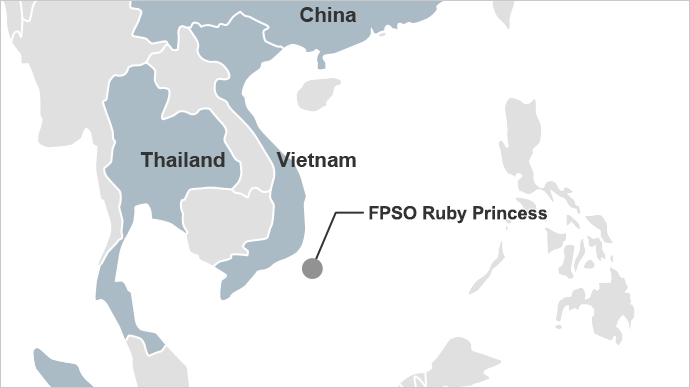 The FPSO Ruby Princess is operating in the Ruby field located in Blocks 01 & 02 offshore Vietnam, approximately 155 km northeast of Vung Tau.
MODEC was the Operations and Maintenance contractor to the FPSO owner, PTSC (Petroleum Technical Services Company, a wholly owned subsidiary to Petro Vietnam).
The FPSO Ruby Princess is a converted tanker (formerly the Knock Davie) of 130,000 dwt, processing approximately 18,000 bopd from a Wellhead platform (WHP). The well fluids are transferred from the WHP to the FPSO via a 10" subsea flowline, 1.3 km long.
The well fluids are processed through a single, three phase separation train. The crude oil is then exported via offtake tanker (once per month) and the gas is flared.
The FPSO started the oil production in 1998. MODEC took over the operations and maintenance contract in October 2002 and provided O&M services until O&M contract terminated in January 2006.
Unit Name

FPSO Ruby Princess
Field

Ruby field
Country

Vietnam
New/Conversion

Conversion
Water Depth

50 m (164 ft)
Mooring Type

External Turret
Storage Capacity

850,000 bbls
Oil Production

30,000 bopd
Client

Petroleum Technical Services Company (PTSC)
Contract

O&M
Scope of Work

Operation & Maintenance
O&M Period

October 2002 - January 2006
Current Status

Decommissioned