FSO
Conversion
95 m
External Turret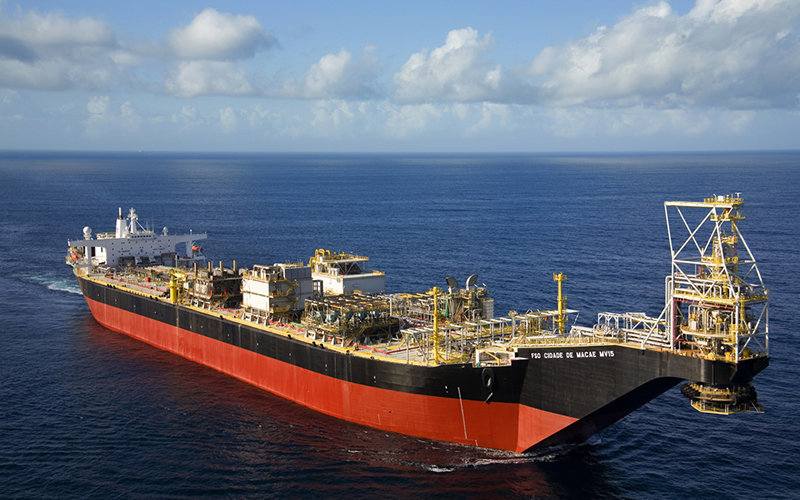 The FSO Cidade de Macaé MV15, which has a storage capacity of 2.15 million barrels of oil, is one of the largest FSO units in the world. It was converted from an Ultra Large Crude Carrier (ULCC).
The FSO is equipped with two independent offloading systems: direct offloading utilizing deep-well cargo pumps on the FSO via an offloading hose to the tandem moored offtake tanker, which is capable of offloading 944,000 barrels of oil per day; the main system is the export pumping system on deck which can export 1.58 million barrels of oil per day from the FSO via export risers to two loading CALM buoys located 2.5 km and 5.0 km away from the vessel.
The FSO is permanently moored by a SOFEC external turret with 12 anchor legs. The FSO topsides include a crude inlet heater module, crude import/export metering module, E-house and three gas turbine generators sets which make up the power generation module.
The FSO is the floating oil storage and offloading component of the Planned Development and Oil Distribution (PDET) facility designed by Petrobras to be the production hub for multiple floating production units in Campos Basin - one of the most sophisticated offshore oil distribution facilities in the world. The FSO will receive and export production from five platforms offshore Brazil: P-52 (Roncador), P-53 (Marlim Leste), P-51 (Marlim Sul) and P-55 (Roncador) and Roncador Module 4 unit that will be installed in the future. The FSO is capable of receiving up to 818,000 barrels of oil per day.
Unit Name

FSO Cidade de Macaé MV15
Field

Marlim Sul, Roncador and Marlim Leste field
Country

Brazil
New/Conversion

Conversion
Water Depth

95 m (311 ft)
Mooring Type

SOFEC External Turret
Storage Capacity

2,150,000 bbls
Oil Handling

818,000 bopd Inlet
Client

Petróleo Brasileiro S.A. (Petrobras)
Contract

EPCI + Time Charter
Scope of Work

Engineering, Procurement, Construction, Installation, Commissioning, Operation & Maintenance
First Oil

November 2007
Charter Period

20years
Current Status

In Operation (MODEC owns and operates)